Discount card
Card advantages
- Enjoy discounts on the following lines:
- Urban lines of Tortosa L-1, L-2 and L-3
- Interurban lines of les Terres de l'Ebre, lines of Castellón, Valencia, Tarragona and regular lines to Barcelona.
- Practical and easy to USE, you do not need to carry money with you.
- Recharge it on board our coaches or lockers indicating the route that you usually take and get a discount on these and on those with a lower price.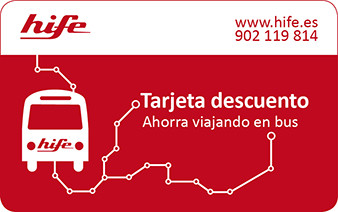 Operation and payment system with the card "TARJETA DESCUENTO" HIFE
Through the discount card you can obtain discounts on the urban lines of Tortosa, the card has a purchase price of € 4 and its technical duration is 2 years. after 2 years it must be renewed so that its benefits are the same. In addition to the discount corresponding to the journey taken, a discount will also be applied if you use the card on journeys of the same or lower price than the chosen voucher. If the cost is higher, you can also use it but without a discount.
What happens to the balance of the recharges on the card?
The balance of your card will appear printed on the ticket that we give you after use and / or if not, the bus canceller can indicate it to you. Recharging can be done at any time, without having to use up the entire balance.
If you keep it, you can always know the available balance. As the benefits of this card are similar to those offered by a purse card, changes in fares and / or the use of the type of voucher used for recharging on an UNUSUAL journey may leave the amounts in relation to the trips out of place. When this situation occurs, our ticket offices and / or our drivers will help you to arrange the arrangement, if you cannot go to the Tortosa ticket office where this procedure is carried out.
T-10/120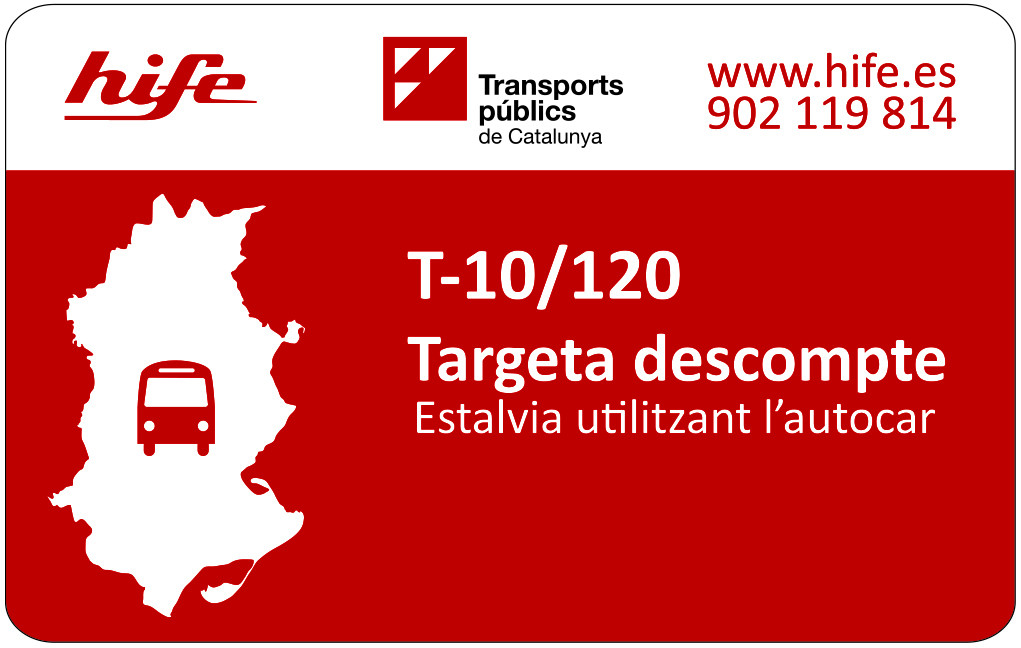 Areas of use:
Towns in "Les Terres de l'Ebre".
Tortosa - Roquetes - Jesús line
How does it work?
The T10/120 card allows you to make 10 journeys in 120 days at a price of 1 ¤ per journey on regular lines within "Les Terres de l'Ebre".
The card costs €4 and is multi-personal.
Rechargeable for 10 € (currently subsidised, 5 €, until 30 June 2023).
You can buy it and recharge it at our ticket offices and coaches.
Hife is NOT responsible for loss, theft or damage.
Fare increases will be assumed by the cardholder.
It is valid for 2 years.