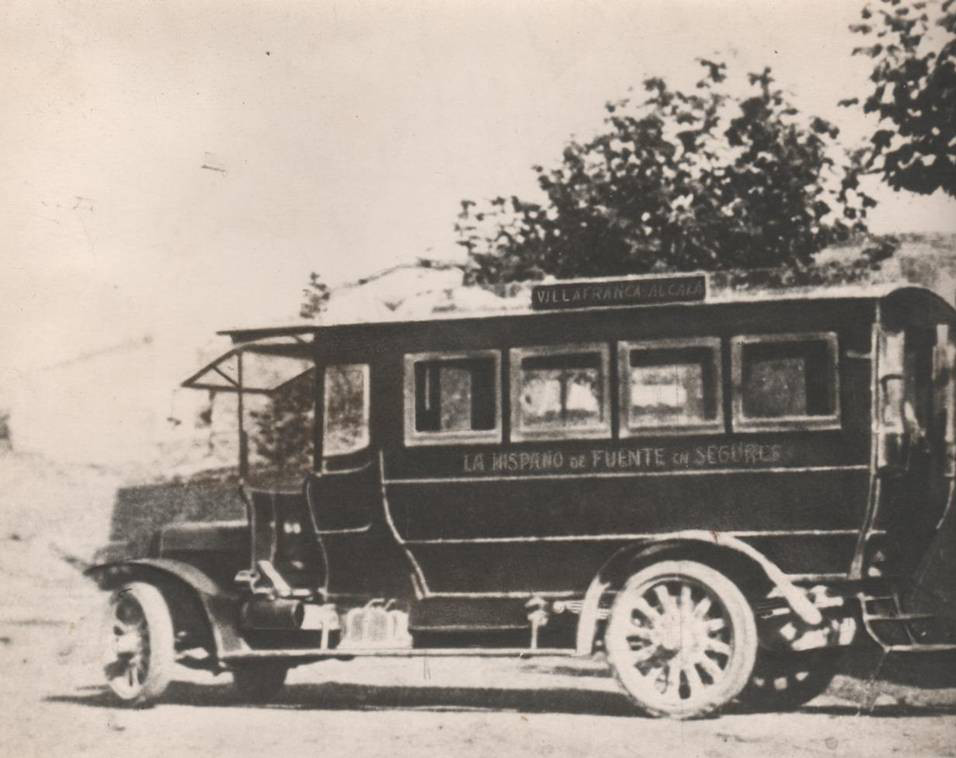 Hife Group History  
La Hispano de Fuente En Segures, S.A. (Hife), was founded in 1915. It is difficult to briefly summarize 100 years of transport. In essence, the company begins its journey through lands of the Province of Castellón de la Plana. Born in Benasal. The Spanish Switzerland license plate CS-17, was his first vehicle. From that first vehicle and by regular lines, it practically covers its entire province of Castellón and extensive regular services to Valencia.
At the same time, in 1,927, it inaugurated the first service station of Tortosa "Estación de Servicio 4 Caminos,S.A." for the supply of fuels in general.
In 1925, Hife arrived in Catalonia with the award of the regular line Tortosa - Valderrobres and Tortosa - Vinaroz. During this time, the company grew acquiring and consolidating regular lines in the provinces of Tarragona, Community of Aragon and own of Valencia and Castellón. • In the '50s, it entered the discretionary market with bases in Madrid and Barcelona, in addition to gaining international experience with the regular line between Barcelona and Frankfurt. At this time the first bar opens at Tortosa bus station.
In the '70s the first Restaurant "SNACK BAR Cap de Ball" was inaugurated and ESPATUR TRAVEL is also created. In the late '70s, Hife will arrive on a regular line to Barcelona, inaugurating the la Répita - Amposta - Tortosa - Barcelona motorway line. An international regular line is also created that matched Madrid, Zaragoza and Barcelona with Genoa, Florence and Rome.
In the 80', Hife established lockers in Tarragona, Salou, Cambrils and Peñíscola. Start your services from Zaragoza to the Costa Dorada and Costa de Azahar. It also debuts the new Hotel Bus or car-bed coach, with discretionary trips throughout Europe.
In the 1990s, Hife started the urban service of Tortosa by Ebro Buses. Through union of companies arrives on a regular online to Madrid from Tarragona and Salou. Later, extensive services joining northern Spain (San Sebastian, Bilbao, Vitoria, Pamplona and Huesca) with the Costa Dorada and Azahar.
In an age of technological advances, it adapts by creating the chip card with contact with which all customers enjoy a discount for their use and creates the website www.hife.es
In 1992 the Hife Group was selected by the American Sponsor Mars Company, for the transport at the Barcelona Olympics of visitors from more than 40 countries.
Creates the wholesaler Hifetours that depends on Viajes Terminaltour,s.l. and specializes in congresses, large groups and tourist recipient. With the birth of Port Aventura creates tourist packages dedicated to the theme park.
Hife is awarded its effort and in 1997 is selected in Spain "Best Company of the Year in Regular Online Passenger Transport".
Start the 21st century by expanding its services and opening 2 Cap de Ball restaurants in Tortosa, as well as 3 la Pineda and Tortosa retail agencies. It also acquires most of the Stadium Service Station with the flag bearer Cepsa creating a parking for industrial vehicles of 160 industrial vehicles.
The summer of 2004 is selected as official carrier of the World Rowing Championship held in Banyoles (Girona) and in which 67 countries from all over the world competed. Urban transport begins in the coastal towns of Calafell and Amposta.
In 2005, the book "Veus i Teclats" was presented on the occasion of Hife's 90th Anniversary celebration. All the proceeds go to the "Associació de Malalts d'Alzheimer de les Terres de l'Ebre".
In 2008, wholesaler Hifetours was elected official ticket sales agent for Expo Zaragoza 2008 and urban transport was initialized in Peñíscola, Torredembarra and Cubelles.
In 2009, Hife acquired the concessions of the company Automobiles Bajo Aragón, S.A. (Abasa) that connected the main towns of Lower Aragon with Alcañiz and Zaragoza, and also had several lines in the provinces of Teruel and Zaragoza. It also performs the teruel – Alcañiz – Gandesa – Reus – Barcelona, and Zaragoza service with Belchite, El Burgo de Ebro, Escatrón, Caspe, Alcorisa, Andorra de Teruel, Azaila, etc. Like Hife, it provided discretionary national and international services, as well as adapted and disabled transport services. Thanks to the union of both transport networks, Hife significantly improves service between the communities of Aragon, Catalonia and Valencia.
In 2010 create the Virtual Bonus. An exclusive discounted card online. • In 2011 it acquired the company Autocares Segarra,s.l., founded in 1,902 with a long experience in the world of passenger transport in the Province of Tarragona both regularly and at discretion. It establishes its own base in Tarragona.
In 2013 Hife inaugurated base in Alcañiz and joined the already operational ones of Zaragoza, Vinars, Tarragona, Tortosa and Calafell. Also this year, he began managing the Cervantes Service Station, in Tortosa.
Also in August 2013 it presents its first base outside Spain, in Malabo (Republic of Equatorial Guinea) where he began working regular lines, school transport and service for companies in that African country. In November of the same year, Hife-GE transported members of the Spanish football team, VIP's and press in general, during the visit of this team to Malabo for a friendly match between the teams of Equatorial Guinea and Spain.
In 2015, coinciding with the Centenary of the Foundation of the Company, he presented the book "Hife, One Hundred Years of Company". It also extends expeditions to Barcelona and Tarragona from the Ebro Lands accompanied by an important rate improvement campaign. New subscriptions/discounts such as the T10/120 are introduced and the loyalty offer with contactless cards, virtual vouchers, self-selling kiosks and ticket sales is expanded through smartphone or tablet devices.
In 2016, the company Autobuses Guiral, based in Caspe (Zaragoza) joins Hife. Guiral, specialized in discretionary and school transport, works mostly in the Shire of Lower Aragon, which allows a clear improvement of service in that Aragonese area.
In 2017 the company Sanfiz from Alcobendas (Madrid) is integrated in Hife, in 2018 Autocars La Costa based in Montblanc (Tarragona) together with a travel agency in that same town, and in 2019 autocares Amado and Autocares Ramitour, both in the Community of Madrid, joins the group.
Currently, the Group is present in the tourism sector, with the travel agencies Terminaltour,s.l. (wholesale and retail), restoration with the cap de Ball,s.l brand, service stations with the brands Estadio, 4 Caminos y Cervantes, standard-bearers with Cepsa and Repsol respectively, 3 own bus maintenance workshops, a cleaning and integral maintenance company of vehicles, Modern Garage and the Hife Coaches itself, dedicated to the transport of travelers.
With the experience demonstrated during this long history, the group of companies continue to work day by day with a single goal: to achieve maximum satisfaction of their customers and users.